Before you enter this field, read this!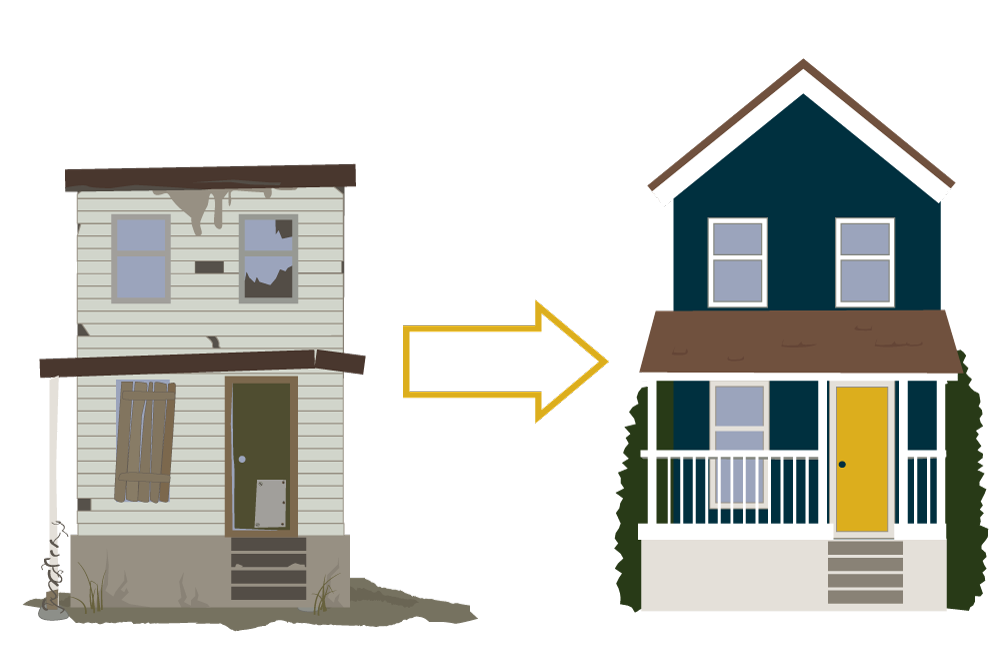 While house flipping can be very lucrative, you can lose everything with one bad decision. It's important to approach this profession with caution and educate yourself as much as possible.
Before you even dream of entering this field, you have to be great with your hands or at the very least well versed on the topic of trades and renovations. You should also have a feel for the market. The last thing you want is all your profits sunk because you bought at the wrong time. It's not as fun and easy as it looks on TV. This is a job that is not only very stressful but requires a lot of hard work.
It goes without saying that you need investment capital and excellent credit before embarking on a project of this magnitude. This step-by-step guide will set you in the right direction, but it's important to remember that this isn't an exact science. Never be complacent and always stay on your toes.
1. Scouting Homes
The most typical way to find homes is through the regular channels, finding a real estate agent, searching online, etc. However it's important to be patient, always look out for the right deal.
The best bang for your buck is foreclosed homes. Make a habit of routinely checking the Internet for new foreclosed homes. Once you find one that looks good, never buy it on a whim. Always see it in person and bring an inspector.
2. Timing
The real estate market is generally steady, but there can be significant fluctuations from time to time. The last thing you want is to be a victim of these fluctuations. The most important thing to take into consideration when scouting a new home is locations. The better the location, the easier to flip. Selling fast mitigates the risk of these fluctuations. It's also important to have great relationships with contractors so you don't get caught with them dragging their feet.
3. What to look for in a house
It's important not to purchase a potential tear down. What you're looking for is a home that is structurally sound and only requires cosmetic upgrades. That's why it's important to have an inspector to verify that there is no mold or asbestos and that the wiring is sound. You also have to ensure that it's built on a solid foundation.
4. Which renovations to focus on
As mentioned in step 3 you want a house that only requires cosmetic renovations, structural ones are very pricey. Even when narrowing it down to cosmetic, make sure you are focussing on cosmetics that will actually increase the value of the house. For example, installing a swimming pool is very costly and while it attracts more buyers, it won't make you any extra money.
The most important room to focus on is upgrading the kitchen. Fresh tiles, a new backsplash, and marble or granite counter tops are essential. It's also vital that you upgrade the appliances to stainless steel.
Other essential renovations include upgrading the bathrooms, installing fresh hardwood floors and fresh paint of course. Be sure not to neglect painting and landscaping the outside of the house to increase curb appeal.
5. Flip
Once you've located a sound house in a good location and finished all the renovations, flipping it should be a cinch. Also, it's a good idea to be proactive and look for buyers before the project is complete.