A landlord's guide to finding the right electrician.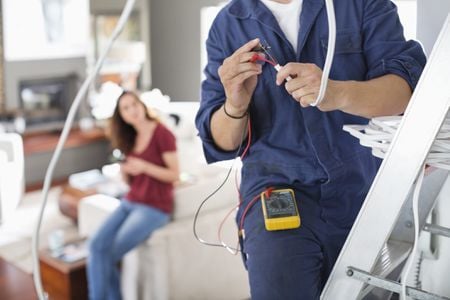 Hiring contractors is one of the many tasks assigned to landlords or property managers. These contractors can be plumbers, roofers, carpet cleaners, or electricians. Each one of these contractor's professions provides a vital service that contributes to the proper management and maintenance of your property investments. As you know these contractors are needed, but more importantly, you need to know how to hire the best contractors for your properties. This time we will discuss how to hire an electrician.
The simple act of just finding any old electrician is just that, simple. Unfortunately your property cannot settle for just any electrician. You want to hire an electrician who is not only great at their job, but also licensed and certified to operate within their field.
Hiring a Qualified Electrician
Electricians are required to complete an apprenticeship by being the apprentice of a licensed electrician. After completing their apprenticeship, before going to work they must first become licensed by their respective state. Licensing requirements can vary from state to state, but regardless of the bureaucracy, as a landlord you need to ensure that the contractors you hire are legally eligible to work for you, and also have the skills required to complete the tasks assigned to them.
Safety Concerns
While an unlicensed electrician may insist they have all the skills and qualifications that a licensed electrician has, but at a lower cost may seem temping, the nature of electricity and the safety concerns present, the risk is too great not to go with a licensed professional. While there are certainly safety risks involved with botched plumbing jobs, the results of faulty electrical work can be catastrophic. There is a risk of electrocution to tenants or even the contractors themselves if they aren't professionally trained. Electrical fires are also an enormous risk, not only for safety concerns, but also for your investments in the form of damage to your properties.
Reliable Contractors
Not only do your contractors have to be licensed and preferably certified, but they also need to be reliable. You are operating within the real estate sector and you need a contractor who is able to accommodate all of your specific needs. Since we are talking about electricians, the wiring situation could be complex, especially if your properties are apartments, condos, or dorm style buildings. This means that sometimes an electrical issue may be isolated to one unit or could spread to others.
The more complex a task is, generally it takes longer to complete. A great question to ask your electrician before hiring them is, what is the rate they charge for their services, and could you come to a more agreeable price if there is a possibility of a future long term working relationship. You need to establish these terms beforehand, so you aren't blindsided by a bill you weren't anticipating.
Who Will be Working in Your Properties?
The certified and licensed electrician you might have spoken to when inquiring about their services may not be the person they were planning to send to replace your wiring. Electrician's apprentices, or other non licensed employees may be sent in their place, and it's your job to make sure you know who they are and what their skill level is. To ensure the most qualified people are working on your investment you need to speak up and insist that only licensed electricians take action or make consequential decisions during your services taking place.
Are Your Contractors Insured?
legally your electrician has to have some form of insurance, but you need to know what is covered in those insurance policies, by asking for a copy of any insurance documentation they may have on file. Individual plumbing businesses may also have additional warranties or service guarantees that they may offer their clients.
Your Best bet is to Shop Around
Shop around for the best electrical contractor you can find. They will all offer slightly different services, at different price ranges, but your goal is to sort them out and find the best fit for you. Also you need to do all of this before you actually need any electrical work done. You are contracting out this company and they will be your go to resource for all of your electrical needs. You need to be on a first name basis with all of your contractors, and they should know you as well. Apartment, condo, or dorm contracts are difficult to come by for contractors so they need to know you are valuable clients and should be treated as such, as a priority.